Lemartec Completes PortMiami Cruise Terminal F Expansion Project On Time and On Budget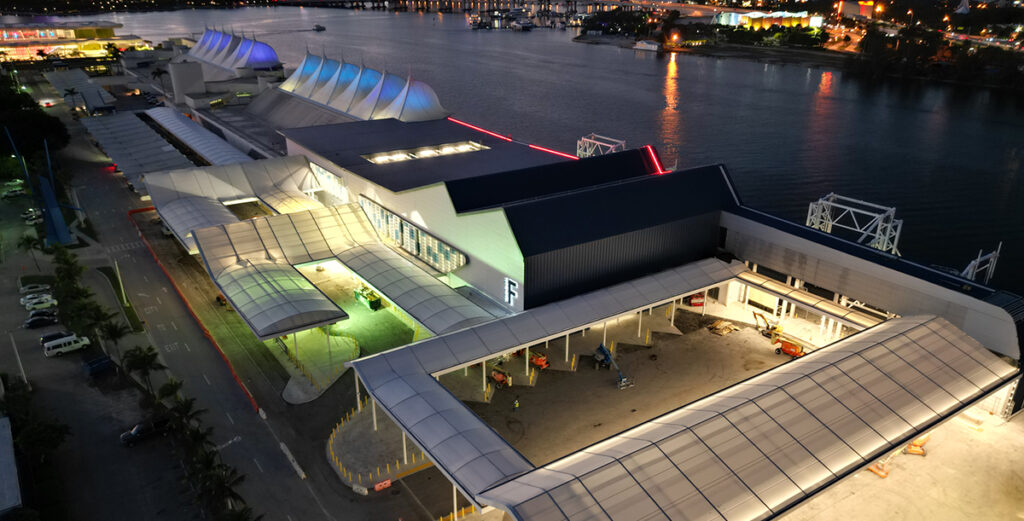 MIAMI, FL: February 14, 2023 — PortMiami's 471,500 square-foot Cruise Terminal F expansion has been completed for Miami-Dade County with a fresh take, giving Carnival Cruise Line a better space with more character and identity. Working through the challenges of the pandemic, Lemartec pursued an aggressive fast-track schedule with design and construction developed and executed in tandem to complete the design-build on time and on budget, while allowing the existing terminal to remain operational throughout the entire process. This is the largest terminal at PortMiami and is also on track to achieve LEED Silver Certification.
"We are very proud of our newly expanded Terminal F for Carnival Cruise Line", said Miami-Dade County Mayor Daniella Levine Cava. "Despite the challenge of remaining operational during construction, we now have a beautiful new home for the Carnival Celebration, the very first LNG vessel to sail from PortMiami. This project is emblematic of what we can do when working together."
Both the exterior and interior design enhance the cruise passenger experience. The exterior of the building contrasts with the adjacent cruise terminal architecture with its metal wall cladding, continuous and undulating metallic roof profile visible from the ship, light and airy entrances, embark, disembark, and bus canopies, together with a tropical landscape. Calming white interiors contrasted by colorful nautical-inspired finishes and audiovisual and media interventions complete the passenger experience while at the port.
The interior layout provides a clear passenger circulation sequence for both embark and disembark operations through optimization of operational flows, all while port operations remain active and in constant coordination between Customs and Border Protection (CBP), the Coast Guard, PortMiami, and various cruise partners. Terminal F can accommodate multiple cruise vessel types and is also the dedicated terminal for Carnival Cruise Line, which has some of the largest (XL class) ships in the world.
"This is Lemartec's 2022 signature project, and we are extremely proud of the work our team has achieved. We are also delighted to share in this accomplishment with our sub-contractors- many of which are minority-owned businesses, just like us.", commented Maira Suarez, Vice President of Strategic Partnerships at Lemartec.
Learn more about this project.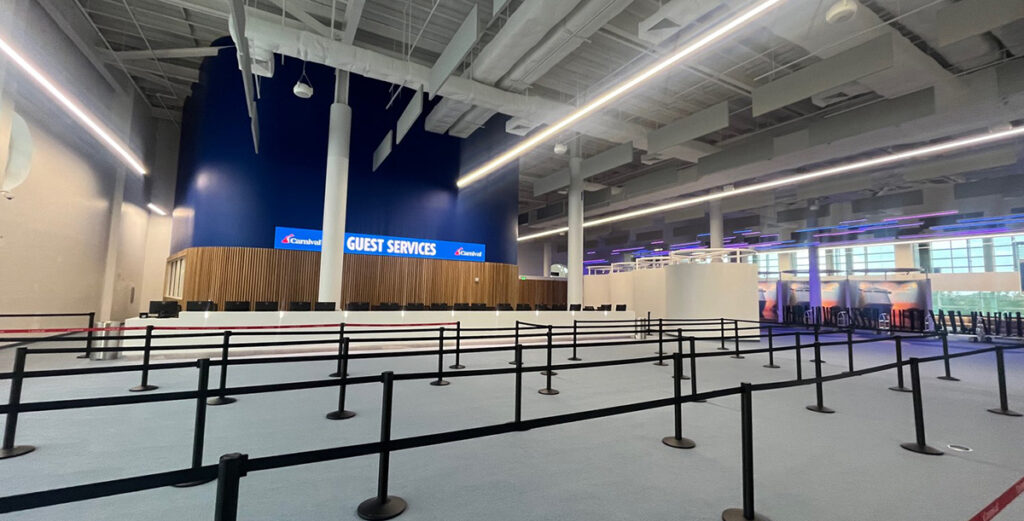 About Lemartec: Lemartec Corporation is a national design-build construction management firm and serves as MasTec's vertical construction arm with a unique focus in Aviation & Transportation, Mission Critical, Sports & Entertainment, and Commercial market sectors. Forged by a safety-first and relationship-driven mindset, the Lemartec culture fosters trust and creates value for all stakeholders – our clients, employees, business partners, the community, and the environment.
.